• Afternoon Tea • Decorating • Garden Party • Gatherings • Get Togethers • Outdoor Party • Party supplies • Prosecco • Summer party • Tropical Party
With Summer fast approaching, I am sure we are all dreaming of late bright warm nights filled with the heavenly smell of a BBQ and homemade cocktails flowing. If you plan to organize a garden party or BBQ this summer, this is the blog post for you! I will outline below the do's and don'ts of planning a party in your home and how to decorate for the perfect summer aesthetic. Celebrating any event outdoors during the summer is a blissful thought. But there are some things to consider before you volunteer your garden for the festivities. Here are some...
---
• Babies • Best Sellers • Best Selling • Boutique • Christening • Communion • Communions • Decorating • Decorations • Gatherings • Get Togethers • New Baby • Newborn • News • Occasions • Outdoor Party • Outdoors • Party • Party Boutique • Prosecco • Summer • The Party Boutique • Theme • Themes • Trends • Tropical • Tropical Party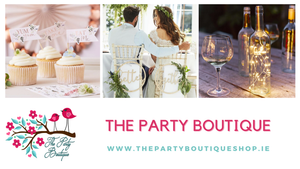 Little did we think when we first uttered those god awful words 'strange times' that they would have lasted so long. I feel like we are getting there though, I like to be optimistic and hopeful however, there's no denying it's been a tough year. The feeling of playing some small part in making someone's special occasion all the more magical never gets old to me and has helped me a lot through these past few months! As a small business owner aka a one-(wo)man band who works hard to find the very best quality and selections of ranges for...